Fun Time Farms Corn MAiZE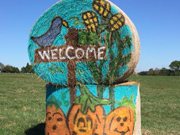 Fun Time Farms Haunted Maze! Every Friday and Saturday night, from dark to closing, the haunted trail, presented by Hawthorn Bank, awaits those who dare!!

New Vortex Tunnel!!!! Come experience what is new in the haunted maze this year!! Ever experienced VERTIGO? Come give this a try!

Zombie Shootout:
Zombie Shootout Bus! Load up for a ride to shoot real live zombies! You get 100 paintballs to try and bring down one of Fun Time Farms zombies!! This 12 minute ride will test your skills and get your adrenaline going as you try and get a real live Zombie!!
Latest Reviews
There are no reviews for this listing yet!