Zombie Invasion at 7-Eleven® Stores
October 6, 2018 By Haunt News & Press Releases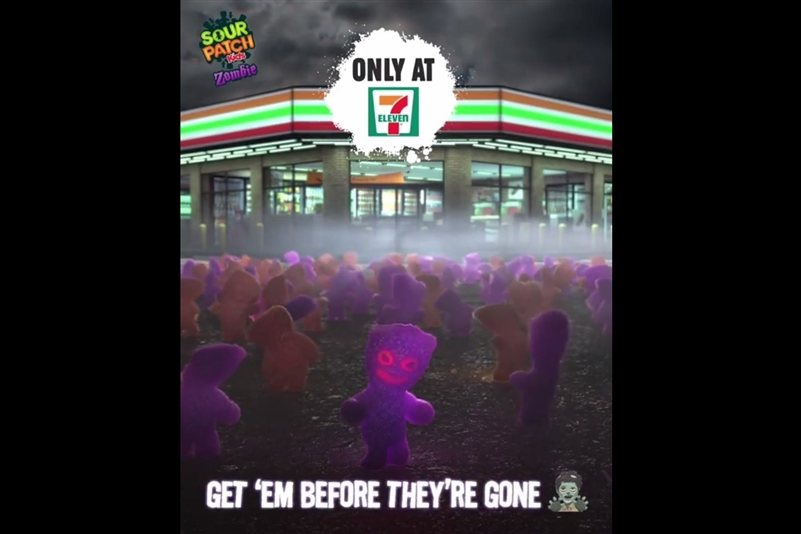 Sour Patch Kids Zombie Candy is available for limited time with BOGO Offer, Sourpocalyse Sweeps
Photo by:
7-Eleven, Inc.
Irving, TX - Oct. 2, 2018 - It was a dark and sour night when the orange and purple creatures rolled into town, invading 7-Eleven® stores and waiting for the Zombie catchers to grab them off the shelves.
A scary delicious outbreak is spreading at 7-Eleven stores with SOUR PATCH KIDS Zombie candy. The exclusive 5-ounce take-home bags of orange and grape candy kids are available for a limited time at participating 7-Eleven stores. Suggested retail price is $1.99 for one 5-ounce take-home bag or $3 for two bags.
On the dawn of World Zombie Day is Sunday, Oct. 7, customers who scan their 7-Eleven app, use their 7-Eleven physical card or key chain fob, or enter their Alt-ID (phone number) at purchase can enter the Sourpocalypse Sweepstakes with the purchase of SOUR PATCH KIDS. Ten winners will receive a Zombie Sourpocalypse Survival Kit that includes a tablet computer, $100 7-Eleven® gift card, $25 iTunes gift card (for Zombie movies, of course!) and SOUR PATCH KIDS Zombie candy, all packed into a SOUR PATCH KIDS backpack. Prize value is approximately $500. Winners will be announced mid-November.
National Candy Day is Thursday, Nov. 4, when customers can satisfy their candy needs at a discount with a buy one-get one offer. Available through the 7-Eleven app, customers can choose two 5-ounce bags for $1.99, the suggested retail price for a single bag.
Halloween is one of the biggest candy holidays of the year, with the National Confectionery Association estimating that Americans will spend an approximately $2.75 billion (close to $3 billion) on sweet treats during the Halloween season.
"SOUR PATCH KIDS is a perennial favorite of 7-Eleven customers so we are always eager to work with Mondelez International to create exclusive products and promotions you can't find anywhere else," said Ashley Borden, 7-Eleven merchandising senior product director. "We think SOUR PATCH KIDS as zombies will scare up sales even more in October with customers planning for and celebrating Halloween."
Mondelez International's SOUR PATCH KIDS is the No. 1 sour candy brand, and a top-selling candy at 7-Eleven stores.
SOUR PATCH KIDS created a fun and spooky video and GIF of the sour, then sweet, zombies invading a 7-Eleven store on a dark, foggy, stormy night, with the taglines, "Get 'em before they're gone!" or "Eat them before they eat you!" Geo-filters on Snapchat feature the orange and purple kids with "They're Here!" on a dark screen.
The popularity of zombies in media and pop culture in the U.S. is very much alive. The dead-eyed creatures are sung about, written about and lumber across the screens of hit TV shows, movies and video games.
About 7-Eleven, Inc.
7-Eleven, Inc. is the premier name and largest chain in the convenience-retailing industry. Based in Irving, Texas, 7-Eleven operates, franchises and/or licenses more than 67,000 stores in 17 countries, including 11,800 in North America. Known for its iconic brands such as Slurpee®, Big Bite® and Big Gulp®, 7-Eleven has expanded into high-quality salads, side dishes, cut fruit and protein boxes, as well as pizza, chicken wings, cheeseburgers and hot chicken sandwiches. 7-Eleven offers customers industry-leading private brand products under the 7-Select® brand including healthy options, decadent treats and everyday favorites, at an outstanding value. Customers also count on 7-Eleven for bill payments, self-service lockers and other convenient services. Find out more online at www.7-Eleven.com, via the 7Rewards® customer loyalty platform on the 7-Eleven mobile app, or on social media at Facebook, Twitter and Instagram.
Source: 7-Eleven, Inc.